looking for help on david the gnome game! relatively simple

Posted:
Sun Sep 27, 2009 12:36 pm
While I am working on some pictures for Lyberdoggy, I am also working on my own project that revolves around an old cartoon show called david the gnome. right now as my classes have started and students file into my office asking why they failed last semester, on top of my family responsibilities I find im having less time, so i was wondering if anyone here would love the opportunity to open up AM and link together a map of almost 200 scenes/frames depicting various locations from the david the gnome tv series. All of the resources are together, i would simply need someone who wants to follow my map-like instructions lol and put the whole thing together.
i can tell you it would be greatly appreciated and i could find some way to compensate you if you like. if anyone is interested this is second to last version that i made for presentation to any prospective helpers on the project: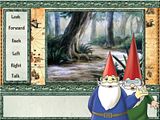 Thanks to anyone that responds! ill definately check this thread in a couple of days. (sooo busy!)