: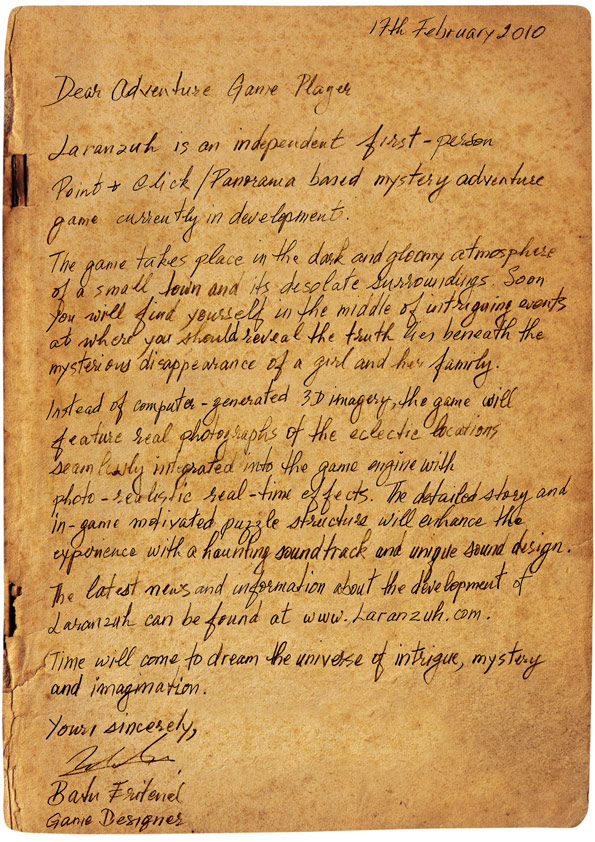 Dear Adventure Game Player,
Laranzuh is an independent first-person Point & Click / Panorama based mystery adventure game currently in development.
The game takes place in the dark and gloomy atmosphere of a small town and its desolate surroundings. Soon you will find yourself in the middle of intriguing events at where you should reveal the truth lies beneath the mysterious disappearance of a girl and her family.
Instead of computer-generated 3D imagery, the game will feature real photographs of the eclectic locations seamlessly integrated into the game engine with photo-realistic real-time effects. The detailed story and in-game motivated puzzle structure will enhance the experience with a haunting soundtrack and unique sound design.
The latest news and information about the development of Laranzuh can be found at
www.laranzuh.com
Time will come to dream the universe of intrigue, mystery and imagination.
Yours sincerely,
Batu Eritenel
Game Designer
--
To download A4 - High Quality Printable Version of the Press Release "http://www.laranzuh.com/laranzuh-press-release-A4-print.jpg"
Please feel free to contact us if you have any questions or comments.
Laranzuh Team (
info@laranzuh.com
-
http://www.laranzuh.com
)